And the Lord answered me and said, "write the vision and make it plain upon tablets, so that it can be read at a glance"

Habakkuk 2:2
What goals do you have for 2022, or which ones have you been putting off for a while now? I know I have a few that I have been putting off for years now, and I also have some new ones added to the plate.
However, I have learned to write my plans down and make them plain, just like the bible verse above states. I then pray on them and start to work towards them one at a time, starting from the small ones and working my way up.
Sometimes, these goals might require us to step outside our comfort zone, which is perfectly fine. If you are an introvert like me, you know how challenging it is to step outside that comfort zone. But we need to conquer that fear and take a leap of faith. So part of my prayer every day is from Psalm 86:11 – Lord, teach me what you want me to do, and I will obey you faithfully.
Do you know who else taught me and challenged me to start writing my goals and plans down? My 9-year-old daughter. This is what she did that made me start.
The 2020 school year was challenging for her and most kids because it was virtual. As a result, she had a hard time keeping her grades up. She knew she wanted to have all A's, but it proved challenging. So, before the 2021 school year started, she wrote down two goals on a sticky note and pasted them right in front of her desk, where she could see them every day. Her two goals were:
To make all A's
To be more responsible
When the school year started, she was ready to go. She was on top of her schoolwork, waking up an hour earlier to get an early head start, did her homework even before I could check it. I never saw a missing work, and above all, she always brought it up whenever we prayed.
She achieved the grade she wanted; an all-A student (Principal's honor roll), and she has maintained that ever since. I cried! I am so proud of her.
I stood in front of her desk, looking at the goals she wrote down and wondering why I couldn't be that organized.
Proverbs 16:3 tells us to "Commit to the Lord whatever you do, and He will establish your plans." So, whatever goals you have, write it down, make it plain where you can visibly see it, pray on them, and work towards them because faith without work is dead, right?
I heard an excellent motivational speaker once say, "you have to be comfortable being uncomfortable because change is an uncomfortable thing." That is so true.
There have been so many ideas in my head for years, but I never acted on them? And that is because it felt uncomfortable for me. I guess we can call it fear.
Fear of the unknown. Fear of hearing the word "no." Fear that we may not have it all planned right. But we wouldn't know until we try. Sometimes, that "No" is an opportunity for us to rethink where we went wrong, re-strategize, and try again even more confidently than the first time.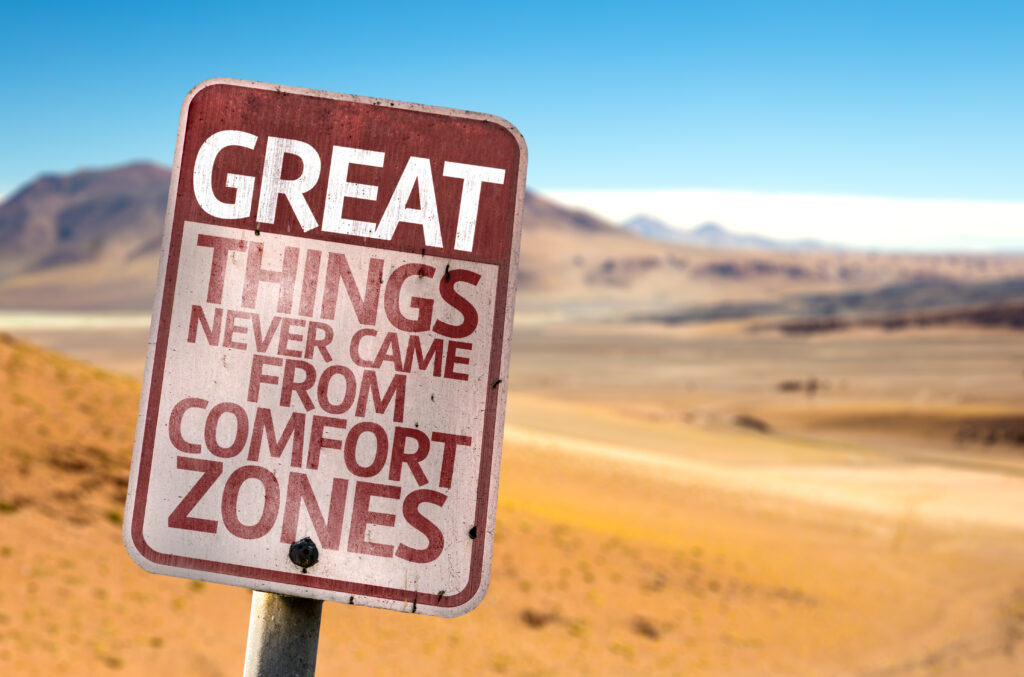 But for the past year, I have intentionally been praying for myself. I have been praying for confidence and courage to step outside my comfort zone because success does not happen in that zone. So now, I write my goals down and put them right where I will see them and pray on them every day.
The mistake most of us make sometimes is that we do not remember to ask God in prayers, and sometimes we ask for the wrong reasons. Do you remember this verse in James 4:2-3 that says, "You do not have what you want because you do not ask God for it. And when you ask, you do not receive it because your motives are bad; you ask for things to use for your own pleasures."
Very important is committing our plans to God in prayer.
Why? Because prayer changes things.
Also, because at the same time we are planning, someone else (the devil) is working hard to mess up the plan and bring about frustration. Whenever there is a good thing happening or about to happen, the devil blocks or tries to block it because that's what he does.
That is why we must step up our prayer life and uplift our spirits with the scripture. But do not give up on your plans or goals.
In this second month of 2022, I want to thank God for each one of you, for it is only by the grace of God that we are here. As long as God has given us life, there is hope, and He still wants to use us for something. So please, do not give up. It might be difficult sometimes, uncomfortable, and challenging, but it is doable, with God by your side. Trust me when I say I am still working on mine. You are not alone.
Most importantly, let us teach our children the importance of setting goals. Teach them to write it down, make it plain, do their part by working towards them, and leave the rest to God. Always remind them that they are smart, unique, awesome, and they can do it.
Do not forget to tell them that God's timing is always perfect. So even though we all want God to answer our prayers as soon as we want it, it is essential to be patient and let God answer at His perfect time. But they have to keep pushing, keep praying and keep trusting God.
May God give you the desire of your heart and make all your plans succeed (Psalm 20:4), and may God grant you peace and joy this year.
May God bless you and your family abundantly.
Ngozi