"But in their distress, they turned to the Lord God of Israel, and they sought him, and He let them find Him" – 2 Chronicles 15:4
Is it just me, or does anyone else feels the world has a different feel? It does not feel right anymore because of the many things going on. I must admit that life is tough! There is so much pain, suffering, violence, hatred, anger, sickness, death all around, fear, and anxiety causing people to be depressed, you name it. I have concluded that it takes God's grace not to lose it in these distressing times.
Really, what can we do? We have all been doing life on our own, leaning on our understanding, but it doesn't seem like it is working too well. Instead, more people are slipping off with fear holding that firm grip on them, and doctors are doing their best to prescribe medications to help people calm down, but it is still not working. Sometimes the medicines cause even more problems than the original issue. I have seen that even wealth and all the material things we possess do not even help. They might soothe for a moment but do not stop those anxious thoughts when they kick in. Days are going by so fast, and people are dropping out quickly. No one knows what is going to happen the next second. Not even the most outstanding scientists or the smartest person can predict. That is where God showed us that He is still and always is God. Only Him knows.
So why not cling to God who knows best?
According to the verse above, this distressing time is the time to turn back to God and stay with Him. Yes, now! We all need to seek God again with our whole hearts, and He will let us find Him. Just like the prodigal son who went out and squandered all the money and found out it wasn't working, then came back to his father begging for forgiveness, that's how we all need to come back to God. We need healing. The whole world needs forgiveness and healing.
And 2 Chronicles 7:14 tells us precisely what we need to do to receive that healing. It says, "if my people, who are called by my name, will humble themselves and pray and seek my face and turn away from their wicked ways, then I will hear from heaven, and I will forgive their sins and heal their land."
I have had times when I feel down, tired, and overwhelmed. So, you are not alone. But we must draw our strength from God, our source of strength, and get back up. You must know that the enemy wants us down, afraid, and depressed, but by the grace of God, I will not let the devil rejoice over me. No doubt, the enemy is at work. He means serious business. But I always say that I will give him a run for his money. As a result, I have refused to be afraid because that is not the spirit that God gave me. Instead, God gave me a spirit of power, love, and a sound mind. I might be crawling and beaten up, but by the grace of God, I will never lose hope. And guess what, I am not the only one with power, love, and a sound mind. You have it too!
Whenever we see another terrible news, we all keep asking the same questions, 'what is wrong with people these days?', 'what is going on?'. People are tired, and it seems like everyone has the same diagnosis of weariness, exhaustion, and tiredness. This general feeling makes me think more of Paul's statement in Ephesians 6:12, "For our struggle is not against flesh and blood, but against the rulers, authorities, powers of this dark world and against the spiritual forces of evil in the heavenly realms.
So, my friends, I am encouraging you and, at the same time, challenging you that whatever the situation in your life, do not let the enemy rejoice over your life. GET BACK UP with the word of God, which is the sword of the spirit; tap that strength from God and give the devil an ultimatum. Rebuke the devil, and he will flee. He is a coward. But you must unlock that strength within you, which God has given you. Be confident in yourself and God's words.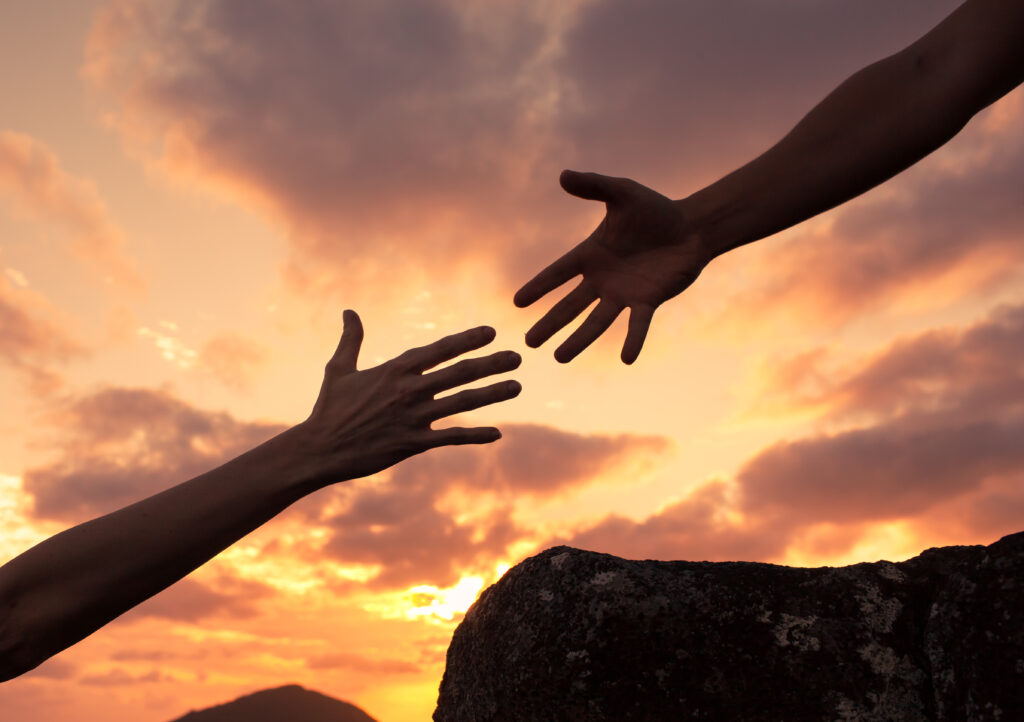 I love this verse from 2 Thessalonians 2:16-17 (NIV) that says, "May our Lord Jesus Christ himself and God our Father, who loved us and by His grace gave us eternal encouragement and good hope, encourage your hearts and strengthen you in every good deed and word."
We all need to know that we have hope for eternity in Christ Jesus. The Holy Spirit, our helper, will remind us of God's words and the eternal encouragement we have in Christ. At the same time, may we also encourage one another -our children, friends, family members, neighbors, and others. We all need to be encouraged to continue this journey and never stop doing and saying what is good.
Remember, our children are not immune to these challenges also. So, let us carry the children along as parents, grandparents, aunties, uncles, and godparents because it takes a village to raise a child. But first, we must set that solid foundation in Christ that cannot be easily broken. In addition, we must encourage them and teach them that God is our only hope in this life.
Ponder on Isaiah 41:13 (KJV) for a second. Yes, pause right here and meditate on it. God said, "For I, the Lord your God, will hold your right hand, saying to you, 'Fear not, I will help you." That is powerful and deep. That is God speaking to each one of us. His word is alive and active! Please, reread it if you have to and remember it every day.
Just imagine God holding your right hand and speaking to you right now. He does that every day, but sometimes, we fail to recognize that. Remember that wherever you are right now is where God is. So, please let us take a moment and surrender to God. Cry out to Him and tell him that you cannot do this alone and need Him.
I stand in agreement with you!
I know I cannot do this alone, and neither can you nor anyone else. But, God knows what you are going through and wants to go through it with you.
May the good Lord continually encourage us all and give us the strength to keep fighting with the sword of the Spirit. May God's light shine upon you and your families, and at the same time, may our light shine on those we encounter every day.
God bless!
Ngozi